The
Kimball-Jenkins School of Art
, where I teach photography courses, is a beautiful old Victorian Mansion that was finished
being constructed in 1883
. With a brick, granite, and slate exterior, it was built to last. The interior is just as beautiful, with marble fireplaces, ornate oak carvings, and intricately painted 12' ceilings. The entire building is truly a work of art. But other than the darkroom and photography classrooms in the basement, and the beautiful art galleries on the
first floor and in the carriage house
, my favorite place to poke around is in the attic.
It's not easy to get to the attic. The steps are narrow, steep, and winding, and as you ascend these stairs in the summer, the heat hits you in the face like
Muhammad Ali
hit
Chuck Wepner
. Reaching the top of the stairs puts you right in the middle of this huge attic. The rough sawn timbers that make up the rafters tilt at incredibly steep angles, soaring to joints that are perfectly matched. The floor is all rough wide pine boards, made charcoal gray with age and dust. In random locations around the attic, there are large solid wood bookcases, most made of mahogany, and all loaded with various memories from years long gone by.
The suns rays slant through the large and strategically placed windows to illuminate the room with a soft, dust filled light, that falls off rapidly as you get towards the center of the room. The combination of the light and the relics on the shelves create some fabulous opportunities for expression with a camera.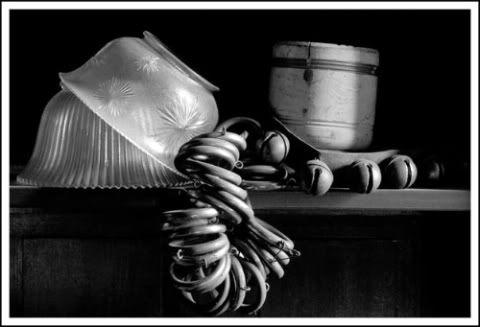 "Forgotten"