Just before America stood up and declared her independence in 1776, New Hampshire was between 78% and 83% forested based on
current estimates
. That acreage was getting ready to plummet, as the locals began clear cutting huge tracts of land in an attempt to institutionalize large scale farming. By 1850, nearly half of the forested land in New Hampshire had been replaced by the popular crops of the time. It became apparent that outside of the river valleys, the bulk of soils in the state were not optimum for growing crops and competing with other areas of the country that were blessed with better soils.
As quickly as the farmlands were created, they were abandoned and began reverting to their naturally forested state. By 1983, New Hampshire had more forested land than it did in 1750, topping out at 87%. At the same time, the population of the Granite State began to explode, and with this increase of inhabitants, came a need for more housing and the forests again began to recede, although not nearly at the rate of the late 1700's.
Because of this massive clearing and regrowth of the state, when you hike in what appears to be the deep dark forest, you have the potential to stumble upon many signs of a previous human habitation. Long stone walls crumble as new trees find a foothold in the gaps between the rocks, cellar holes from long abandoned farmhouses fill with leaves, and occasionally the rusted out carapace of an antique auto stands sentinel in the woods, watching over the vacated homestead.
On occasion, a gap in the trees will widen to a path. This path is wide and flat, and eventually you may come upon some large timber partially buried in the ground. Thia timbers become more and more prominent until large metal plates and rusty spikes are found in some of them. It becomes apparent that you are treading along an old railroad track. You follow the track, looking for a destination, and find a single section of abandoned rail. As you continue to follow ahead, the timbers recede back into the earth and the path narrows back to nothing.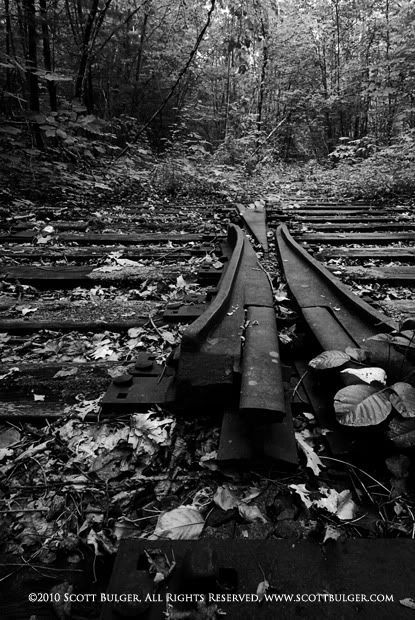 ISO 400 ----- 12mm ----- f22 ----- 1 second
If you aren't careful, just as quickly as something begins, it can end. Appreciate it while it is around.